Concrete Beton Kitabı
İndirimli Fiyat
:
750,00TL
Taksitli fiyat
:
9 x 101,67TL
15556642058037
362298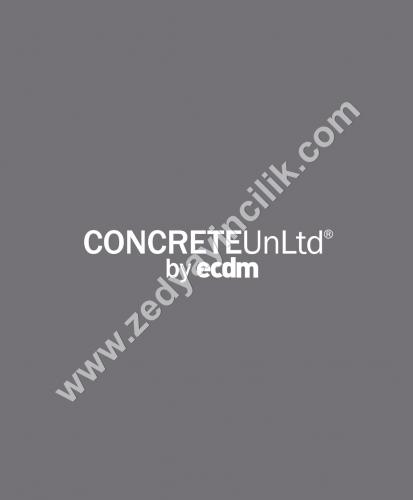 https://www.zedyayincilik.com/concrete-beton-kitabi
Concrete Beton Kitabı
Kitap da brüt betonla yapılan mimari çalışmalar yer almaktadır.
CONCRETE UNLIMITED
by Philippe Trétiack
As a material, concrete is rigid, ductile, heavy, sumptuous, demanding, acquiescent, reluctant. It is raised, it cracks, sometimes it collapses. Concrete is alive, you can almost hear it. From liquid form it takes shape, it distorts. Out of nothing but magma it becomes a structure. It transcends itself. But for that to happen, architects have to get hold of it, confront it head on, dream about it day and night, give themselves over to it body and soul. Emmanuel Combarel and Dominique Marrec are two such architects.
Preface
par Michaël Batalla
And if, in some way, concrete was also structured like a language?
It's certainly a poetic hypothesis. Undoubtedly, betting on its validity, we could manage to explain two or three things. One in particular: the superposition, apparently perfect — at least from the conceptual point of view — of the material plasticity of this 'ductile stone' and, if one can say it this way, of its symbolic plasticity. In other words, its sequential capacity to be as infinitely ugly as infinitely beautiful. One might also say this is its axiological spectrum. What places us on one side or the other of the spectrum? The nature of the complex process, of the kind of alliance, the completely specific alloy which pushes a building into being this braid between engineering and industry, architecture and workmanship, project ownership and uses. The architectural works presented here bear witness to the possibility of the virtuous nature of this process.
Here, we are still speaking of beauty. And if we speak of it, it is for an almost-surprising reason: because we're looking for it. We want it. Like a practical requirement, a renewed confidence in architecture's ability to produce beauty, provided there is a delightful affinity with technique.
From now on, the question is how does one shape into words what can be found when flipping through this book – as one must – or when one goes to see the buildings in place? This is a poetic question if ever there was one, though it is almost doomed to failure. At best, here are a few hints on reading.
The analogical thread of these graphic images (photos, drawings, diagrams and poems) is an attempt to make the incomparable tension between visibility and invisibility felt on paper, that which is the driving force of the appearance of all architecture. 
Everything is material, even light
Both of them love materiality. They take hold of it, they refine it, up to make it disappear. So when they had to transform a town house dating from the Prussian occupation at Strasbourg into the Tomi Ungerer International Illustration Center, they opted for well-thought-out minimalism. "Museums make art bourgeois!" they say. Go for the neutral! A way of dealing with any artistic production not as access to fame, but as a banal act. This time, the material they are working is diffuse lighting. Neither shadow nor relief, but an even lighting whose source is unseen, light that grows thicker and simultaneously evaporates. A cloud. In a building dedicated to over-stated graphics, the architecture generates a blank sheet. Stairs, walls and ceiling are immaculate and the sophistication of nothingness dazzles. Outside, an extremely delicate wave-form wheelchair access ramp winds through the garden. Here, whatever your condition, it's the same door for everyone. There's no artificial limb stuck onto the side of the building. Just like the diffuse light, accesses are shared. Neutrality becomes a factor of egalitarianism, of democracy. The touch is free, as fluid as the pathways. Light can be heavy, and concrete can be light.
Açıklama

Kitap da brüt betonla yapılan mimari çalışmalar yer almaktadır.

CONCRETE UNLIMITED
by Philippe Trétiack
As a material, concrete is rigid, ductile, heavy, sumptuous, demanding, acquiescent, reluctant. It is raised, it cracks, sometimes it collapses. Concrete is alive, you can almost hear it. From liquid form it takes shape, it distorts. Out of nothing but magma it becomes a structure. It transcends itself. But for that to happen, architects have to get hold of it, confront it head on, dream about it day and night, give themselves over to it body and soul. Emmanuel Combarel and Dominique Marrec are two such architects.

Preface
par Michaël Batalla

And if, in some way, concrete was also structured like a language?
It's certainly a poetic hypothesis. Undoubtedly, betting on its validity, we could manage to explain two or three things. One in particular: the superposition, apparently perfect — at least from the conceptual point of view — of the material plasticity of this 'ductile stone' and, if one can say it this way, of its symbolic plasticity. In other words, its sequential capacity to be as infinitely ugly as infinitely beautiful. One might also say this is its axiological spectrum. What places us on one side or the other of the spectrum? The nature of the complex process, of the kind of alliance, the completely specific alloy which pushes a building into being this braid between engineering and industry, architecture and workmanship, project ownership and uses. The architectural works presented here bear witness to the possibility of the virtuous nature of this process.
Here, we are still speaking of beauty. And if we speak of it, it is for an almost-surprising reason: because we're looking for it. We want it. Like a practical requirement, a renewed confidence in architecture's ability to produce beauty, provided there is a delightful affinity with technique.
From now on, the question is how does one shape into words what can be found when flipping through this book – as one must – or when one goes to see the buildings in place? This is a poetic question if ever there was one, though it is almost doomed to failure. At best, here are a few hints on reading.
The analogical thread of these graphic images (photos, drawings, diagrams and poems) is an attempt to make the incomparable tension between visibility and invisibility felt on paper, that which is the driving force of the appearance of all architecture. 

Everything is material, even light
Both of them love materiality. They take hold of it, they refine it, up to make it disappear. So when they had to transform a town house dating from the Prussian occupation at Strasbourg into the Tomi Ungerer International Illustration Center, they opted for well-thought-out minimalism. "Museums make art bourgeois!" they say. Go for the neutral! A way of dealing with any artistic production not as access to fame, but as a banal act. This time, the material they are working is diffuse lighting. Neither shadow nor relief, but an even lighting whose source is unseen, light that grows thicker and simultaneously evaporates. A cloud. In a building dedicated to over-stated graphics, the architecture generates a blank sheet. Stairs, walls and ceiling are immaculate and the sophistication of nothingness dazzles. Outside, an extremely delicate wave-form wheelchair access ramp winds through the garden. Here, whatever your condition, it's the same door for everyone. There's no artificial limb stuck onto the side of the building. Just like the diffuse light, accesses are shared. Neutrality becomes a factor of egalitarianism, of democracy. The touch is free, as fluid as the pathways. Light can be heavy, and concrete can be light.

Kapak Türü

:

Şömizli Sert Kapak

Taksit Seçenekleri

Taksit Sayısı

Taksit tutarı

Genel Toplam

Taksit Sayısı

Taksit tutarı

Genel Toplam

Taksit Sayısı

Taksit tutarı

Genel Toplam

Taksit Sayısı

Taksit tutarı

Genel Toplam

Taksit Sayısı

Taksit tutarı

Genel Toplam

Taksit Sayısı

Taksit tutarı

Genel Toplam

Taksit Sayısı

Taksit tutarı

Genel Toplam